Jesus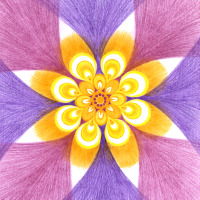 Jesus Christ
The flower mandala created on theme of energy of Jesus Christ. He came to us on the Earth to show us The Way of Light of Wisdom and Love. He showed us which power we can have in case that we will believe to God and believe to ourselves. He showed us power od Love and power of hate, power of faith and power od idea. He demonstrated that by death nothing is finished and that the soul is living further, that it is deathless. He died by cruel death on the crucifix but at the same time he presented to all of us freedom to choose which way we go , we can go on the way of victim or on the way of life. Many of us are going on the way of making of martyr of other people, but there is a question if we help them or do harm to them. In any case we can go on his Way of Ligth and Love.
His death has one more dimension. The way of this his death he showed us, how we behave to the life. how we destroy the life. We all know very well that his death was very cruel and unfair. So that it would be good for us to remember, that we are the same-cruel and unfair. In case we can remember the results of our vices and take the lecture of them, after that we can accept this Jesus Christ sacrifice for our expurgation and atonement. After that we can appreciate and accept this donation of God´s Love to us - people here on the Earth.
By the way how Jesus Christ rised from the dead he showed us that that the life is not possible to destroy, that the life is neverending. But the way we act by our thoughts and behavior against to the life, we prepare torment and troubles only for ourselves and we would like to recover ourselves sooner or later.